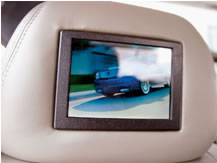 In-car video entertainment….. for those of us who spent our childhood on road trips, crammed in the back of a station wagon with nothing to do but punch our brothers or sisters, it seems like a godsend. For the parents who were trapped in the same car with three kids who decided to pass the time by punching, pinching and asking, "Are we there yet?" it seems like nirvana. But for today's kids, it's becoming par for the course.
With technology shrinking, drivers are no longer dependent on their radios to entertain passengers. Cars and trucks can now be outfitted with VCRs, DVD players and even the latest video game systems. While the entertainment systems' range includes everything from basic portable DVD players to large ceiling-mounted viewing screens, the most luxurious viewing option for many car passengers is headrest monitors. With headrest monitors, each passenger has a personal monitor mounted on the back of the headrest of the seat directly in front of them. Not only do personal monitors of this sort cut down on issues like sun glare, but in some systems, each monitor can display different programming (ending fights over what to watch) or even use different entertainment devices. That means that while one passenger watches a DVD, another can play video games.
Of course, there are some downsides to built-in headrest monitors. The systems tend to be very expensive. While some manufacturers offer the systems straight from the factory, they can add thousands of dollars to the price of a car. Actually, only a few luxury car manufacturers currently offer factory-installed headrest monitors — making them an expensive addition to an already expensive purchase. Aftermarket headrest monitors are more common, but these are still an expensive proposition and usually require professional installation.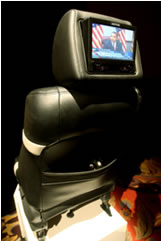 But, if it's headrest monitors you want, A Custom Car Stereo Center has you covered. So buckle up, quit bothering your sister and if you ask to stop at McDonald's one more time, we're turning this 12 Volt News article right around and no one will learn anything about headrest monitors. So be good, and go on to learn about the different types of headrest monitors.
If you're in the market for a new car, you've got a lot of factory-installed entertainment options. Selecting a factory-installed system makes providing entertainment for your passengers easy. The system is set up and ready to go from the moment you own the car. You'll have a warranty for all of the entertainment system's parts and even the labor required to install them. You'll also know that all the components have been designed to work with your car, and they'll fit seamlessly into the design and operation of the vehicle.
For those with their hearts set on factory-installed headrest monitors, you're choices are more narrow than if you considered other factory-installed in-car entertainment systems. Currently, only a few luxury carmakers offer factory-installed headrest monitors on their cars. For those in the new car market who want this feature, you'll have to limit your car shopping to luxury SUVs and crossovers. Some sedans do offer the monitors; however, they tend to be extreme-luxury sedans like Maybachs. Even at the mere luxury level, a factory-installed system will set you back quite a bit. For example, the Land Rover optional headrest monitor package adds around $2,500 to the vehicle's price.
Aftermarket systems can be more affordable. For one, you don't have to buy a new car to get them. The headrest monitors alone are really not that expensive. Seven-inch (17.8-centimeter) monitors start at around $80. However, mounting these monitors can be very complex. You have to cut into the back of the headrest, run the wires into the seats and route them to the input device (VCR, DVD player or game system). And don't forget that you have to put the seat back together again. That's something that's out of the league of many do-it-yourselfers, which means installation costs need to be added to the relatively low price of some of these stand-alone headrest monitors.
A less labor-intensive option is to replace your car's headrests with headrests that have monitors pre-mounted. Many car audio suppliers manufacture these, and installation is as easy as popping your old headrest off, putting the new one on and running the wires to the input device. A set of two of these ready-to-go headrests can cost upwards of $800. Some even hide a DVD player behind the screens, which folds out of the way to change disks. That makes installation even easier since you don't have to run additional wiring to a remote device.
While a number of factory and aftermarket headrest monitors have a DVD player in the headrest, behind the screen — remember, the screen slides out of the way to access the player — there are a number of other system options. While the headrest monitor and DVD player combo may be the easiest to install, it also has some limitations. In many cases, it means that both headrests can't watch the same DVD. These systems also make it difficult for the monitors to show other media, like video games.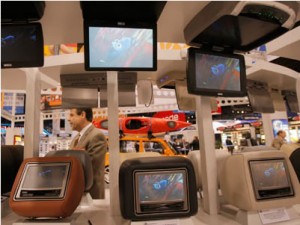 It may seem like a small point, but where the media players are located is actually pretty important. Some factory systems place the DVD player (or players) in the dash, making it relatively simple for the driver or front passenger to load discs for the passengers. Other factory systems place the DVD player in the rear cargo area. That allows for a lot of different types of media in the car. A large DVD changer can fit, and so can one (or more) video game systems. However, this placement has its downsides, too.
It can't be safely accessed while the car is in motion. Also, if there's cargo in the cargo area, access to the media may be further limited. Plus, running the wires from the monitors through the vehicle and into the cargo area also complicates installation for aftermarket systems.
Other systems put the media between the front seats, facing the rear seat passengers. That allows for the back seat passengers to access the media players to change discs or games. On the other hand, such placement puts the media players at risk for getting kicked or stepped on as people enter or exit the car, and not every vehicle has enough space between the front two seats for a media player (or two).
The way many headrest monitor manufacturers try to solve these difficulties is by providing wireless remote controls with each monitor. That way, even if the media player is far away from the passenger, they're still able to control it.
Come down to A Custom Car Stereo Center and explore your options for a aftermarket Entertainment Player in your vehicle.