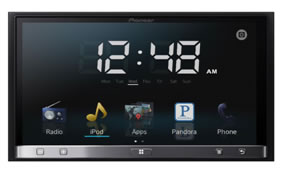 Pioneer's revolutionary AppRadio™ is the first car stereo to revolutionize the driver's experience by bringing compatible phone apps to the dash for the ultimate in-vehicle smartphone experience. With AppRadio you can access your Phone's Calendar, Maps, Photos and other compatible apps directly on the Pioneer touchscreen right in your dashboard.
I understand that smartphones are a common source of entertainment, information and network connectivity, whether you're at home or on the go. The Pioneer AppRadio of integrating technology into the car without compromising design, performance or safety, and has lead to the development of a cutting-edge product that brings your connected lifestyle safely into the vehicle – Pioneer is proud to introduce the revolutionary, AppRadio™ 2…now with Android™ compatibility!

 Pioneer's revolutionary, game-changing AppRadio is the first car stereo to revolutionize the driver's smartphone experience by bringing compatible apps to your dash. When connected to a compatible Apple iOS or Android smartphone loaded with Pioneer's free AppRadio application, the AppRadio in-dash stereo provides the ultimate in-vehicle smartphone experience. Featuring the first ever in-dash, capacitive touchscreen, you can enjoy full on-screen access and control of your contacts, calendar, maps, and more with an intuitive interface, formatted and designed specifically for safer in-vehicle operation.  Pioneer has teamed up with app providers to offer compatibility with many of today's most popular in-vehicle apps, while also developing an expanding catalog of AppRadio compatible apps for future features and functions that can be easily added.  AppRadio will even notify you when new compatible apps are released.
A key to AppRadio is the flexibility to seamlessly add features and capabilities through compatible iOS or Android™ applications.  As the library of AppRadio compatible apps continues to grow, users will be automatically notified via the Pioneer AppRadio app on your smartphone, with a link to the respective app(s) page within the Apple iTunes® App Store or on Google Play (Android Market) depending on your device. The AppRadio is designed to grow with your smartphone, and has the potential to support updates for future hardware and versions of the operating system.
Simply download Pioneer's free AppRadio application and any other AppRadio-compatible apps to your iPhone 4S, iPhone 4 or compatible Android device, connect it to the AppRadio in-dash receiver with the proper interface cable, and you're ready to experience your smartphone in an entirely new way!
FEATURES
Compatible with iPhone 4S (cable included), iPhone 4(cable included), iPod® Touch 4th Gen (cable included), and select Android™ devices (CD-AH200C interface cable required)
7″ WVGA capacitive touchscreen with a resolution of 800 pixels x 480 pixels and multi-touch operation.
FM/AM radio tuner with RDS
Direct control for iPod/iPhone (cable included)
Built-In Bluetooth® for hands-free calling with phone book access, dial pad, and included microphone
Built-in MOSFET 50W x 4 amplifier, Easy EQ preset equalizer, 5-band graphic equalizer, subwoofer control, and two sets of RCA preouts (2 x 2V) for system expansion.
External GPS antenna for improved positioning accuracy
Rear-view camera input